Three Top-Rated Cosmetics for Hair and Beard with Pine Oil
Pine oil is made from a variety of species of pine growing in Europe and Asia. It is obtained by steam distillation. This way, a liquid of light yellow colour and runny consistency is extracted. It has a characteristic scent that works well with other essential oils. These include cedar, eucalyptus, lavender, rosemary, sage.
Because of its healing and care properties, Pine oil is very often used in cosmetics and hairdressing. It acts as an antiseptic agent, soothes scalp irritations and fights scalp infections. Pine oil strengthens the hair follicles, which in consequence prevents hair loss and accelerates its growth. Massaged at the base of the hair, stimulates the circulation of blood, soothes the red and itchy scalp, and relaxes. What is more, Pine oil is also used in the treatment of colds, arthralgia and fatigue. It has warming, stimulating and refreshing properties. Very good results are achieved by inhaling this essential oil. Check out the effects of Pine oil found in various hair and body cosmetics.
Nanoil For Low Porosity Hair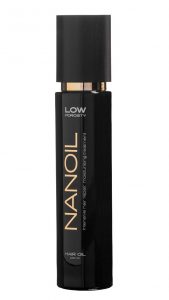 This version of Nanoil is designed for people with low porosity hair. Such a hair type usually lacks volume, the strands are thin and difficult to style, and the scalp is oily. Interestingly, two more versions of Nanoil Oil have been created: Nanoil For Medium Porosity Hair and Nanoil For High Porosity Hair.
What benefits will you gain thanks to using Nanoil Hair Oil?
Nanoil Hair Oil nurtures the hair and the scalp. It can also be applied to your man's beard. All ingredients have been selected to moisturise, nourish and regenerate low porous hair. Nanoil Hair Oil prevents scalp oiliness, reduces the symptoms of dandruff and inhibits hair loss. It will nourish and strengthen the hair follicles and will restore the scalp's proper pH. In addition, it will tame unruly strands, help styling, shorten the drying time of the hair and help in combing and detangling. Nanoil Hair Oil has a light consistency, so it is quickly absorbed, does not stick the strands and leaves no greasy layer on them. What is more, the product will also be useful to men. It takes care of the moustache and the beard perfectly. It will facilitate styling, provide many nutrients, moisturise the skin and strengthen the hair follicles. Nanoil Hair Oil is also recommended for men who have to face premature graying and hair loss.
What does Nanoil Hair Oil contain?
In the Nanoil Hair Oil we will find ingredients that have been specially selected for low porosity hair. Only such compositions of natural oils, vitamins and other substances are able to take care of low porous hair. There are: Pine oil, Coconut oil, Argan oil, Castor oil, Shea butter, Maracuja oil, Babassu oil, Monoi oil and Cupuacu butter. Additionally, panthenol, sunscreen, vitamins A and E and substances responsible for hair strengthening.
The amount of Nanoil you should use is determined by the length and density of your hair. Apply two or five servings to dry or damp strands, wait a few hours, and then wash your head thoroughly. Leave your hair to air-dry or blow-dry and create your favourite hairdo. Nanoil oil can also be used by your man. It is enough that Nanoil will be applied once a day, and effects will be seen after several applications.
The Brighton Beard Company Old Joll's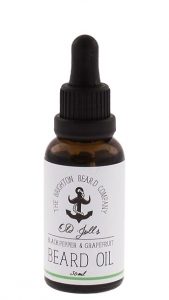 Old Joll's Oil from The Brighton Beard Company is designed for male facial hair. If your man has a lush beard or moustache, then this cosmetic will certainly help him with daily care and styling. Oil will also work as an after shave balm.
What benefits will you gain thanks to using this oil?
Thanks to Old Joll's from The Brighton Beard Company, your guy will take care of the beard, and what is most important – the skin. The specially formulated composition will facilitate the styling and care of moustaches, beards and all facial hair. The cosmetic moisturises nourishes and reduces burning, itching and irritation caused by shaving or trimming. The oil strengthens the hair follicles, accelerates growth, tames unruly hair and makes the beard look beautiful and healthy. The product provides an aroma of grapefruit and black pepper.
What does it contain?
In Old Joll's from The Brighton Beard Company, you will find softening Jojoba Oil, moisturising Sweet Almond oil, regenerating Argan oil, antimicrobial Tea Tree oil, preventing hair loss Pine oil, and vitamin E with antioxidant properties.
How to use the product?
Apply a small amount of the oil onto the beard or moustache. Thoroughly massage it into a thoroughly cleansed skin. To obtain satisfactory results, use Old Joll's oil from The Brighton Beard Company at least once a day.
Natura Siberica White Agafia Hair Balm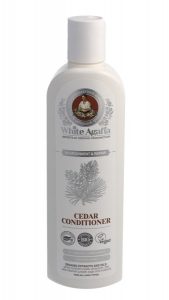 Natura Siberica White Agafia is a balm that is designed for damaged, dry and shineless hair. The cosmetics will also be useful for scalp care, where dandruff and irritation appeared. How does Natura Siberica hair balm work?
What benefits will you gain thanks to using Natura Siberica White Agafia Hair Balm?
Thanks to Natura Siberica White Agafia Balm your hair will be stronger, more beautiful and healthier. The cosmetics will provide nutrition, moisture, smoothing and natural shine. Natural ingredients are responsible for rebuilding the damaged structure of the strands, preventing thinning and the appearance of dandruff. Did you know that the product is recommended for vegans? It contains no animal ingredients and animal-derived substances. Its composition is based only on natural oils and plant extracts.
What does the balm contain?
In White Agafia Hair Balm you will find Cedar oil, western mandarin, fennel, wild Siberian juniper, amaranth and sage. All substances have been selected to maximise hair and scalp care.
How to use the balm?
Remember that Natura Siberica White Agafia Hair Balm should be applied to clean hair and cleansed scalp. Put a small amount of the product onto the strands and thoroughly rub it in. Leave in for about two minutes and then rinse with lukewarm water. Dry your hair and style as you usually do.